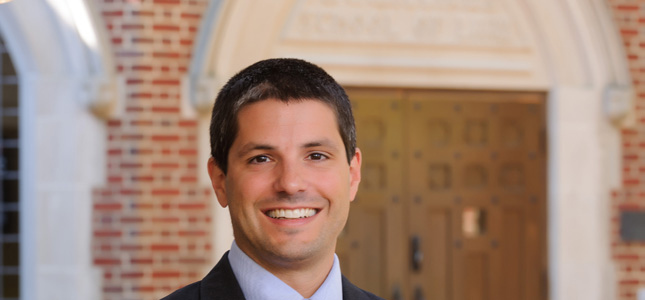 Christopher A. Cotropia
Director, Intellectual Property Institute
Austin Owen Research Fellow
Courses Taught
Intellectual Property Fundamentals
Intellectual Property Law & Policy
Patent Law & Policy
Copyright Law
Computer Law
Property
Profile
Professor Chris Cotropia is director of the School of Law's Intellectual Property Institute and Austin Owen Research Fellow. He writes in the areas of patent law, intellectual property, and federal courts. He is the author of numerous book chapters, amicus briefs, and law review articles on these subjects, and his scholarship has appeared in the UCLA Law Review, William & Mary Law Review, Hastings Law Journal, Notre Dame Law Review, North Carolina Law Review, Yale Journal of Law and Technology, and Berkeley Technology Law Journal, among other venues. Prior to joining the Richmond Law faculty, Professor Cotropia was the C. J. Morrow Research Professor of Law at Tulane University School of Law.
Presentations
What is the Invention?, at Patent Scope Revisited: Merges & Nelson's On the Complex Economics of Patent Scope, Indiana University Maurer School of Law, September 2010.
The Folly of Early Filing in Patent Law, American University School of Law, October 2010.
Panelist, Analyzing In re Bilski, Hot Topics in Patent Law, George Mason University School of Law, July 2010.
The Individual Inventor Motif in the Age of the Patent Troll at Patents and Entrepreneurship in Business and Information Technologies, George Washington University Law School, June 2009.
Panelist, Fulfilling the Patent System's Public Notice Function, Federal Trade Commission, March 2009.
Describing Patents as Real Options at Invention, Creation, and Public Policy, Iowa University Law School, February 2009.
The Upside of Intellectual Property's Downside, University of Washington Law School, February 2009.
Rethinking the Patent System's Early Filing Doctrine, Columbia Law School, January 2009.
Testimony on "Process Patents" before the United States Senate Committee on the Judiciary, Washington, DC, May 2007.
Testimony on Public Interest before the United States International Trade Commission in Certain Baseband Processor Chip and Chipsets, Transmitter and Receiver (Radio) Chips, Power Control Chips, and Products Containing Same, Including Cellular Telephone Handsets, Inv. No. 337-TA-543, Washington, DC, March 2007.
Bar Admissions
California
District of Columbia
United States Patent and Trademark Office
Professional Experience
Professor of Law (2006-present)
University of Richmond School of Law, Richmond, Va.
Director, Intellectual Property Institute (2014-present)
University of Richmond School of Law, Richmond, Va.
C.J. Morrow Research Associate Professor of Law (2003-2006)
Tulane University School of Law, New Orleans, LA
Intellectual Property Litigation Associate (2001-2003)
Fish & Richardson P.C., Washington, DC
Law Clerk (1999-2001)
Hon. Alvin A. Schall, United States Court of Appeals for the Federal Circuit
Publications
Chapters
Compulsory Licensing Under TRIPS and the Supreme Court of the United States's Decision in eBay v. MercExchange, in Patent Law and Theory: A Handbook of Contemporary Research (Toshiko Takenaka ed., Edward Elgar Publishing 2009). [SSRN]
Internet, in Encyclopedia of the Supreme Court of the United States (David S. Tanenhau ed., MacMillian 2008).
In the News
Caution is necessary in patent "troll" debate (The Hill-Blogs)
Fri., Mar. 20, 2015
IP Professors Q&A: Richmond Law's Christopher Cotropia (Law360)
Fri., Oct. 17, 2014
Cracking the Code (Style Weekly)
Tue., Jul. 8, 2014
What does the trademark ruling really mean for the Redskins? (NBC 12)
Wed., Jun. 18, 2014
Lighting Ballast, Anderson Study (IPFrontline Magazine)
Sat., Sep. 21, 2013
Guest Post by Christopher Cotropia on Existing Deference in Patent Claim Interpretation (Patently-O)
Wed., Jul. 24, 2013
Study suggests patent office lowered standards to cope with backlog (ArsTechnica)
Sun., Apr. 7, 2013
Patent bonanza is bad for business (CBS Moneywatch)
Tue., Mar. 26, 2013
---
Education
B.S., Northwestern University 1996
J.D., University of Texas School of Law 1999
Contact Information
(804) 484-1574
(804) 289-8683 (Fax)
Areas of Expertise
Intellectual Property
Patent Law
Computer Law
---