Cambridge Summer Program
Unfortunately, all Summer 2020 study abroad programs, including the Cambridge program, have been canceled in accordance with University policy.
Program Details
For 40 years, the University of Richmond School of Law has conducted a summer program in England for American law students. The purpose of the program is to afford students an opportunity to live and study in surroundings that provide maximum exposure to the English common law system, which serves as the basis for much of the U.S. law.
The Cambridge summer program is an extension of the University of Richmond School of Law. Classes and final examinations meet requirements of the Association of American Law Schools and the American Bar Association.
The program is designed for students currently engaged in the study of law and in good standing at American Bar Association or Canadian Bar Association-accredited law schools. A letter of good standing must be submitted prior to the commencement of the program.
A reading and required text list is distributed well in advance of the program. Students should acquire these books before leaving for England, as some books may not be available in Cambridge.
The 2020 summer program will be held at Emmanuel College, Cambridge University, from June 28 to August 2. Participants in the program will reside, dine, and attend classes in Emmanuel College facilities. Professor W. Clark Williams is the Cambridge Summer Program Director and will share on-site program director responsibilities during the 2020 program session with other University of Richmond Law faculty.

Academic Credit
Credits earned in the Cambridge summer program will be accepted at the University of Richmond School of Law. Students from other law schools should ascertain in advance the credit transfer policies and residency requirements of their own institutions.
Participation in the program will not necessarily enable a student to accelerate graduation. Students wishing to earn eight weeks of residency credit may wish to attend our three-week, on-campus term prior to leaving for Cambridge. Details are available upon request.
Cambridge program students may take up to four courses (six semester hours of credit). Classes are scheduled to meet four days a week, Monday-Thursday. Although this schedule allows ample opportunity for extracurricular activities, students should attend classes regularly.
Applications and Fees
Applications should be submitted prior to April 1, 2020. Since enrollment will be limited by available accommodations, it is strongly recommended that students apply early. Applications will be accepted on a first-come, first-served basis. The application must be accompanied by a $150 deposit. Deposits are not refundable after March 1, 2020. All payments should be made payable to the University of Richmond.
Tuition and Accommodation Fees
The balance of the tuition and accommodation fees must be received by the university not later than May 15, 2020.
The total cost of the program is $7,500
| | |
| --- | --- |
| Deposit (non-refundable) | $150 |
| Tuition balance | $3,850 |
| Room and board | $3,500 |
Airfare is the responsibility of the student.

The University of Richmond reserves the right to cancel this program in the event of compelling circumstances. In such an event, all monies would be returned.
You may submit the following form online. Payment must be submitted separately by mail.
Send payment to:
University of Richmond School of Law
Summer Program in Law at Cambridge
Attn: Tracy Cauthorn
Richmond, Virginia, 23173
A Summer Program in Law in Cambridge, England
June 28-August 2, 2020
Full payment of all fees is due by May 15. Make checks payable to University of Richmond.
Send payment to:
University of Richmond School of Law
Summer Program in Law at Cambridge
Attn: Tracy Cauthorn
Richmond, Virginia, 23173
Questions? Please contact Professor Clark Williams, 804-289-8207, cwilliam@richmond.edu. 
Curriculum
Selected Issues in Public International Law
(2 semester hours)
Prof. Rumiana Yotova
Gonville and Caius College, Cambridge University
Consideration of various discrete issues of public international law, including statehood, boundaries, the law of war, jurisdiction and state responsibility, and their relation to municipal law.
Legal History
(2 semester hours)
Dr. Ashley Hannay
Magdalene College, Cambridge University
Development of legal institutions using historical perspective to help understand reasons for apparent anomalies in our legal system, such as distinctions between law and equity, crime and tort, and to aid decisions of law reform.
Comparative Public Law of U.S. and U.K.
(2 semester hours)
Dr. Shona Wilson Shark
Girton College, Cambridge University
Examination and comparison of underlying principles of constitutional and administrative law in the U.S. and the U.K.
Law of the European Union
(2 semester hours)
Prof. Albertina Albors-Llorens
St. Johns College, Cambridge University
Survey of institutions of the European Union, and examination of substantive principles of EU law and their integration into the legal systems of member countries.
Truth, Perception, and Argument: The Advocate's Role
(1 semester hour)
Prof. Laura Webb
University of Richmond School of Law
Pop IP: Where Pop Culture Meets the Law
(1 semester hour)
Prof. Ashley Dobbs
University of Richmond School of Law
Accommodations and Transportation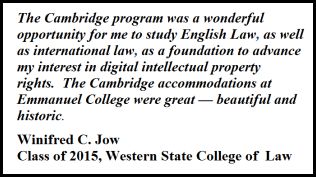 All rooms at Emmanuel College are single rooms. Linens and maid service are provided at no additional expense. Spouses or dependents will pay the same room and board charges as participants in the program. No dependents under the age of 16 can be accommodated in the college.
Meals will be served in the college dining hall. Prior experience has indicated that most students prefer to travel and eat off-campus on weekends, so the cost of weekend meals has been eliminated from the room and board charges. Thus, no meals will be provided from Friday dinner through Sunday lunch.
Banks and shops are easily accessible. The city of Cambridge offers restaurants, public houses, cinemas and theatres, in addition to its many scenic and historic features.
London is just fifty miles away and is served by frequent fast train and bus connections. Despite its proximity to London, the East Anglican region retains an unspoiled character, and its villages and towns have a quiet charm that is typically English. The cathedral cities of Ely and Norwich are within easy reach.
Each participating student is responsible for travel to England from the United States.