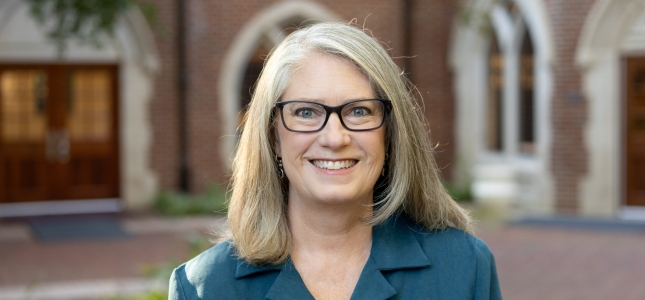 Carole Yeatts
Director of Professional Development Programs, CDO
Profile
Carole Yeatts advises students and alumni on a wide variety of career-related matters and creates and delivers professional development programs to prepare students for life-long career management. Prior to joining the School of Law in 2013, she coached lawyers and firms on issues related to business and professional development and client relations as founder of CYT Consulting LLC. She previously worked for the Virginia State Bar, the McCammon Group, and held positions in the marketing and professional development departments at Troutman Sanders. Carole received her undergraduate degree from the University of Richmond and her J.D. from the University of Virginia in Charlottesville, Va.
Memberships
Metropolitan Richmond Women's Bar Association - President (2001-02), Communications Chair (2010-13), Public Service Chair (1998-99) So You're 18 Project Committee Chair (1999), Programs Chair (1996-98)
Virginia State Bar - Mandatory Continuing Legal Education Vice Chair (2010-2016)
Bar Association of the City of Richmond - Membership Committee (2016-present, 2004-2007), Pro Bono Committee and Co-chair of Pro Bono Housing Project (2007-10), Public Relations Committee (1998-2001)
Legal Marketing Association - The Virginias Chapter, President (2007), Membership Chair (2010), President-elect (2004-07)
National Association of Women Business Owners - Richmond Chapter, Treasurer and Board of Directors (2011-13), Member since 2009, Executive Coaching (2010)
The READ Center - President (1999-2000), Board of Directors (1996-2001), Fund Development Chair (1997-98)
University of Virginia Law School - Richmond Region Co-Chair (2002-present), Law Foundation Assistant (1993-94)
University of Virginia Law School - Student Bar Association President (1993-94), SuperSaturday Founder and Director (1994)
University of Richmond - Westhampton College Government Association (1988-90), Delta Delta Delta Charter Member (1987-90), Panhellenic Rush Chair (1989-90), Women Involved in Living and Learning (1986-90), Admissions Representative (1988-90), Class of 1990 10th Year Reunion Development Committee Co-Chair (1999-2000), 20th Reunion Planning Committee (2009-10)
Professional Experience
Director of Career Development, Professional Development Programs (2013-present)
University of Richmond School of Law, Richmond, Va.
Founder (2009-2013)
CYT Consulting, LLC, Richmond, Va.
Manager, Professional Development (2006-09)
Troutman Sanders LLP, Richmond, Va.
Senior Manager, Marketing and Client Services (2002-06)
Troutman Sanders LLP, Richmond, Va.
Director of Marketing (1997-2001)
The McCammon Group, Ltd., Richmond, Va.
Local & Specialty Bar Relations and Fee Dispute Resolution Program Coordinator (1994-97)
Virginia State Bar, Richmond, Va.
Governor's Fellow and Assistant to the Director of Drug Policy (1990-91)
Office of the Governor of Virginia, Richmond, Va.