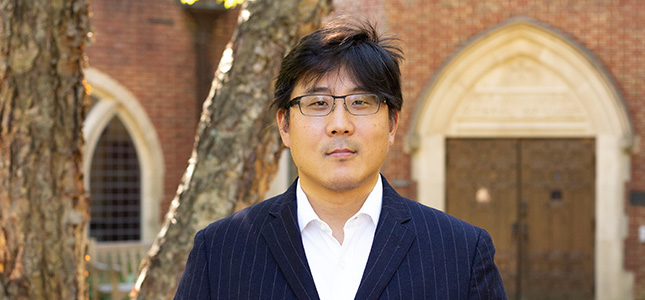 Vincent Chiao
Tyler Haynes Professor of Interdisciplinary Studies
Curriculum Vitae
Profile

Vincent Chiao joined the University of Richmond faculty in fall 2022 as the Tyler Haynes Interdisciplinary Chair, a joint appointment to the University of Richmond School of Law and the Jepson School of Leadership Studies. He came to Richmond from the University of Toronto Faculty of Law, where he served as associate professor. Immediately prior to joining the Richmond faculty, he served a one-year fellowship at Harvard University. He holds a B.A. in philosophy from the University of Virginia, a Ph.D. in philosophy from Northwestern University, and a J.D. from Harvard Law School.

Expand All

Presentations

co-author, "Content moderation online: regulation ex ante versus ex post," Rethinking Criminal Justice through Virtual Spaces, Villanova Law School (October 2022)

---

author, "Inalienable powers," Coercion and privatization: on legitimate authority in EU and transnational contexts, University of Gothenburg (September 2022)

---

author, "Content moderation online: regulation ex ante versus ex post ," The Political Morality of Social Media, Manchester University (September 2022)

Professional Experience

William Lyon Mackenzie King Visiting Professor of Canadian Studies (2021 - 2022)
Harvard University

---

Associate Professor (2011 - 2021)
University of Toronto, Faculty of Law

Publications

Books

Criminal Law in the Age of the Administrative State (Oxford University Press) (November 2018).

Journal Articles

Proportionality and Its Discontents, 41 Law and Philsophy 193 (2021).

Corruption and the Criminal Law: Assurance and Deterrence, 71 University of Toronto Law Journal 8 (2021).

Algorithmic Decision-Making When Humans Disagree on Ends, 24 New Criminal Law Review 275 (with Kiel Brennan-Marquez) (2021).

Fairness, accountability and transparency: notes on algorithmic decision-making in criminal justice, 15 International Journal of Law in Context 126 (Cambridge University Press) (2019).

Predicting Proportionality: The Case for Algorithmic Sentencing , 37 Criminal Justice Ethics 238 (2018).

What is the Criminal Law For?, 35 Law and Philosophy 137 (Springer) (2016).

Discretion and Domination in Criminal Procedure: Reflections on Pettit, 15 Politics, Philosophy & Economics 92 (SAGE) (2015).

Equality, Assurance and Criminalization, 27 The Canadian Journal of Law & Jurisprudence 5 (2015).

Mass Incarceration and the Theory of Punishment, 11 Criminal Law and Philosophy 431 (Springer) (2015).

Punishment and Permissibility in the Criminal Law, 32 Law and Philosophy 729 (Springer) (2013).

Ex Ante Fairness in Criminal Law and Procedure, 15 New Criminal Law Review: An International and Interdisciplinary Journal 277 (University of California Press) (2012).

Intention and Attempt, 4 Criminal Law and Philosophy 37 (Springer) (2009).

Action and Agency in the Criminal Law, 15 Legal Theory 1 (Cambridge University Press) (2009).

Book Chapters

From the Philosophy of Punishment to the Philosophy of Criminal Justice, in The Palgrave Handbook on the Philosophy of Punishment (Springer International Publishing) (with Javier Wilenmann)

Realism and the Rational Administration of Law in Beccaria, in Re-Reading Beccaria (Bloomsbury Publishing) (Shachar Eldar et al., eds.)

Transparency at sentencing: are human judges more transparent than algorithms, in Sentencing and Artificial Intelligence (Oxford University Press) (Julian V. Roberts et al., eds.) (February 2022).

Policing Entrapment, in Canadian Terror: Multi-Disciplinary Perspectives on the Toronto 18 Terrorism Trials 44 Manitoba Law Jounral (July 2021).

Capital Punishment and the Owl of Minerva, in The Palgrave Handbook of Applied Ethics and Criminal Law (Palgrave Macmillan) (Larry Alexander et al., eds.) (December 2019).

Two Conceptions of the Criminal Law, in The New Philosophy of Criminal Law (Rowman & Littlefield Publishers) (Chad Flanders et al., eds.) (December 2015).

Act and Actus Reus, in The Oxford Handbook of Criminal Law (Oxford University Press) (Markus D. Dubber et al., eds.) (November 2014).