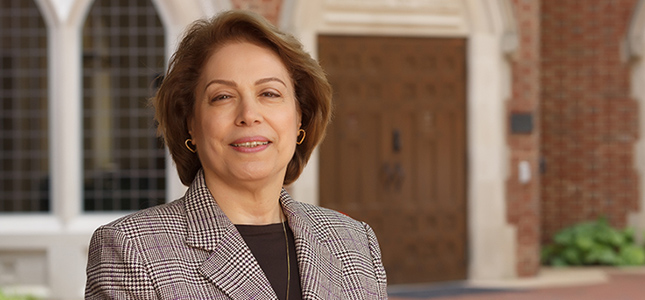 Azizah Y. al-Hibri
Founder and Chair, KARAMAH: Muslim Women Lawyers for Human Rights
Profile
Professor Azizah al-Hibri is a Professor Emerita at the Law School, having served on the faculty from 1992 until her retirement in 2012. Her work has centered on developing an Islamic jurisprudence and body of Islamic law that are gender equitable and promote human rights and democratic governance. Professor al-Hibri has authored numerous book chapters, essays, and law review articles on these subjects, and her work has appeared in the highly respected Journal of Law and Religion, Harvard International Review, and University of Pennsylvania Journal of Constitutional Law, among other venues. In 2011, Professor al-Hibri was appointed by President Obama to serve as a commissioner on the U.S. Commission on International Religious Freedom. She received the Virginia First Freedom Award from the Council for America's First Freedom in 2007, the Dr. Betty Shabazz Recognition Award from Women in Islam in 2006, and the University of Richmond's Distinguished Educator Award in 2004, and was named a Fulbright scholar in 2001. Professor al-Hibri is the founding editor of Hypatia: A Journal of Feminist Philosophy, and founder and president of the organization KARAMAH: Muslim Women Lawyers for Human Rights.
Presentations
Faith, Values and Lawyering in the 21st Century: Failure of the Compartmentalization Approach, at the International Legal Ethics Conference, "Legal Ethics at a Time of Regulatory Change," London, July 9-12, 2014.
Bar Admissions
New York
District of Columbia
Professional Experience
Professor Emerita of Law (2012-present)
University of Richmond School of Law, Richmond, Va.
Professor of Law (1998-2012)
University of Richmond School of Law, Richmond, Va.
Associate Professor of Law (1992-98)
University of Richmond School of Law, Richmond, Va.
Associate (1987-92)
Debevoise & Plimpton, New York, N.Y.
Associate (1986-87)
Sullivan & Cromwell , New York, N.Y.
Visiting Scholar (1985)
Harvard Divinity School and Center for the Study of World Religions
Summer Associate (1984)
Davis Polk & Wardwell, New York, N.Y.
Summer Intern for Judge Louis H. Pollak (1983)
United States District Court
Summer Intern for Judge William F. Hall, Jr. (1983)
United States District Court
Visiting Associate Professor (Philosophy) (1981-82)
Washington University in St. Louis
Assistant Professor (Philosophy) (1975-83)
Texas A&M University
Selected Publications
Books
Sex, Marriage and Family in World Religions, Co-editor of Islamic section. Don Browning, Christian Green, and John Witte, eds. (Columbia University Press, 2006).
In the News
9/11 remembered: 14 years later (MSNBC)
Fri., Nov. 20, 2015
Speakers Fulfill 'Inspiration Day' (The Connection Newspapers)
Thu., May. 8, 2014
Christian Minorities: Our Trust Betrayed (The Huffington Post)
Wed., Sep. 25, 2013
Torture admission would help restore U.S. standing in world (Winter Park / Maitland Observer, San Fernando Valley Sun)
Wed., Aug. 28, 2013
On torture, no time like the present to own up to our past (Miami Herald)
Tue., Aug. 20, 2013
Barton: Complacency encourages evil (Richmond Times-Dispatch)
Fri., May. 10, 2013
Muslim women lawyers aim to reconcile traditional beliefs with secular society (ABA Journal)
Fri., Feb. 1, 2013
Anti-Blasphemy Laws in the Arab Spring (The Huffington Post)
Thu., May. 31, 2012
No Contradictions Between the Koran and the US Constitution (New Jersey On-Line)
Fri., Jan. 6, 2012