Access Services
Circulation of Library Resources
Borrowing privileges vary depending on the patron. Please refer to the chart below for the loan policies of each patron group.
| | | | | |
| --- | --- | --- | --- | --- |
| Patron Group | Length of Borrowing Privileges | Card Fee | Items Allowed | Loan Period/Renewals |
| Alumni | 1 year | No fee | 5 items | 28 days/1 renewal |
| Attorney | Indefinite | Free with bar card | 5 items | 28 days/1 renewal |
| High School Student | 3 months | No fee with high school pass | 2 items | 28 days/no renewal |
| General Public | 1 year | $40/year | 5 items | 28 days/1 renewal |
| RALC* and VIVA* Faculty/Staff/Student | 3 months | No fee with college pass | 5 items | 28 days/1 renewal |
| UR Faculty | Indefinite | No fee | No limit | 120 days/unlimited renewals |
| UR Staff | Indefinite | No fee | No limit | 28 days/1 renewal |
| UR Student | Indefinite | No fee | No limit | 28 days/1 renewal |
*Click here for a list of RALC and VIVA libraries.
Renewal of materials may be accomplished in person at the library, over the telephone during regular business hours, or online by the user by logging in to the My Account page.
The following types of library materials do not circulate:
Reporters and codes (primary materials)
Reference materials and finding aids
Microforms
Individual volumes from multi-volume sets*
Periodicals
Special Collections materials
Some CLE materials
*Exception: Individual volumes from multi-volume treatises may circulate.
All faculty members may request that a book from either the Law Library or Boatwright be delivered:
Select the catalog record of the item you wish to request
Click on "Make a Request" on the right menu.
Enter your ID number and last name.
Click on "Fac/Staff book delivery."
Enter department in the comments field  and click "Submit."
Please allow 2-4 business days for delivery.
Exam File
Created and maintained by the law library staff, the exam file gives you access to numerous exams administered at Richmond Law in the past.  Access is limited to computers accessing the site within the University of Richmond network or via VPN.
Interlibrary Loans
About
Law faculty and students who need books or articles from periodicals not held in the law library collection may make a request using our online interlibrary loan system. As a participant in a national online interlibrary loan network, the library has access to resources of hundreds of law and non-law libraries nationwide and often can obtain requested materials rapidly.
Place a Request
If it is your first time signing in, you will be asked to enter your contact information
Select the type of request that you would like to make on the left-hand menu
Enter the information about the item
Click "Submit Request"
Upon arrival books will be held at the Law Library Circulation Desk for pickup. An automated email will be sent alerting you to pickup your materials.  Incoming articles will automatically be delivered to you via your Interlibrary Loan account.
Patrons are responsible for returning ILL books to the front desk of the library by the due date once the request has been placed. Please refer to the due date indicated on the book slip.
Library Consortia
Law faculty, staff, and students have the option to visit local and regional academic libraries to browse and possibly borrow materials. Academic libraries in the Richmond area belong to the Richmond Academic Library Consortium (RALC). Faculty and staff may borrow up to 5 books from RALC libraries with their UR ID by obtaining a RALC borrowing pass from the Law Library Circulation Desk.
Warning Concerning Copyright Restrictions
The copyright law of the United States (Title 17, United States Code) governs the making of photocopies or other reproductions of copyrighted material.  Under certain conditions specified in the law, libraries are authorized to furnish a photocopy or other reproduction.  One of these specific conditions is that the photocopy or reproduction is not to be "used for any purpose other than private study, scholarship, or research."  If a user makes a request for, or later uses, a photocopy or reproduction for purposes in excess of "fair use," that user may be liable for copyright infringement.  This institution reserves the right to refuse to accept a copying order if, in its judgment, fulfillment of the order would involve violation of copyright law.
Scanning & Copying
The law library's copiers are available daily from the time the library opens until 15 minutes before closing. The copiers are located on the main floor and are capable of copying or scanning. Electronic scans of materials on microform are available through the use of the library's film/fiche reader/printer, located in the microform room, on the right of the reference section on the first floor.
Copies
Copies are in black and white only and cost $.10 per page which may be paid using either cash or a copy card. Bills used in the cash copy machine must be no larger than $5. Copy cards are available for purchase from the machine next to the photocopiers.  The initial purchase of a copy card requires a $1 bill for a card that is loaded with a $0.50 credit. The card machine accepts $1, $5, $10, and $20 bills. Using a $10 or $20 bill will result in bonus value being added to the card. Change may be obtained at the circulation desk.
Scanning
The photocopiers may also be used to scan documents in black and white or in color free of charge. An overhead scanner is also provided free of charge and located next to the copy machine. Patrons are responsible for providing their own USB drive on which to save scanned documents. USB drives can be purchased in the vending machines housed in the law school basement.
For assistance using the photocopier, scanner, or microfilm reader, please contact the circulation desk.
Course Reserve Materials
A collection of frequently used resources is kept on permanent reserve at the circulation desk. Included in this collection are all casebooks for courses being taught during the current semester, selected Virginia materials, the current edition of titles in the West Nutshell series, and current editions of other study aids. The Online Catalog will indicate when an item is located on reserve.
Materials also are placed on reserve for current courses and student organizations.  The Course Reserves tab of the online catalog allows the user to locate materials on reserve for particular courses.
Study Rooms
There are five  study rooms in the library basement available for group study.  They are identified as L2, L3, L4, L5, and L6.
All are equipped with a large screen to connect a laptop for group display.  Four rooms seat up to 5 people.  L4 is a large room that will accommodate 14 people.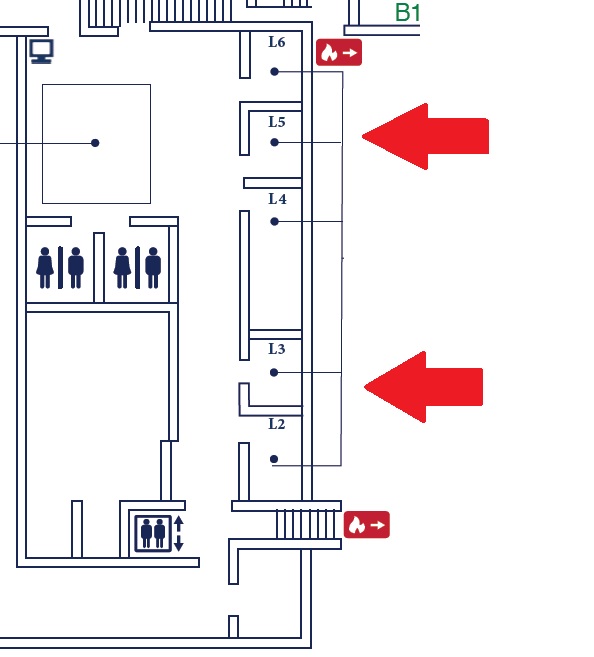 There are also three study rooms available on the second floor. L251A, L251B, L251F. These rooms are also equiped with large wall displays and hold 8 people.
Students may reserve study rooms for up to four hours and one week in advance.  The lights in the study rooms are motion activated; there are no light switches. 
Click on this link to access the study room reserve system.  Pick up keys to the study rooms at the Circulation Desk.  Anyone not claiming the key within 15 minutes of the reservation period start will forfeit the reservation to another user if the demand is warranted.
Users With Disabilities
The University of Richmond Law Library staff is committed to assisting people with disabilities so that they may use our resources and services effectively.  If you have any questions or special requests, please ask at the Circulation Desk, call 804-289-8637, or email. As time and staffing allow, we can assist library users with disabilities to retrieve materials from the stacks or assist with photocopying.
Facility Features
Parking – The Law School parking lot has 4 marked handicapped spaces. An unobstructed sidewalk leads to the building entrance.
Doors – An outside door leading into the building, as well as the inside door leading into the main library, may be opened electronically using a push pad.
An elevator provides access to all floors of the library.
Restrooms have wide access facilities and include grip bars.
Computers -Two public table-height computer stations have access to many legal databases, including Lexis Academic and Westpac with access to Federal and State primary authority, some secondary sources and selective forms.