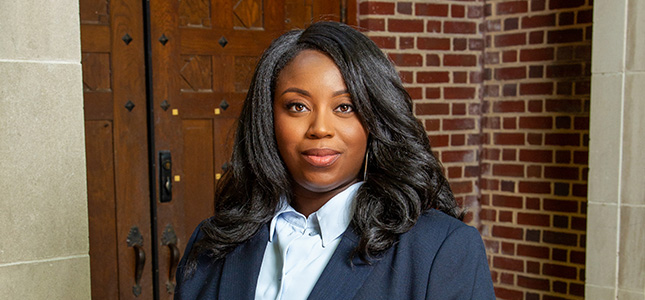 Danielle Wingfield
Assistant Professor of Law
Curriculum Vitae
Profile

Professor Wingfield joined Richmond Law from Gonzaga University School of Law where she served as a fellow and visiting assistant professor. Her primary areas of teaching and scholarship include legal history, constitutional law, family law, race and the law, family law, and education law and policy. She earned her Ph.D. in education from the University of Virginia, her J.D. from the University of Richmond, and her B.A. in sociology and philosophy from the College of William & Mary. Professor Wingfield served as Of Counsel for The Child Advocate Law Firm, PLLC in Charlottesville, Virginia prior to returning to academia.

Her latest article,

Movement Lawyers: Henry Marsh's Long Struggle for Educational Justice

, examines the strategies and approaches of lawyers in their struggle to overcome discriminatory laws, systems, and policies related to education. She is an Associate Director of national oral history projects,

Teachers in the Movement and the Carter G. Woodson Home National Historic Site Study.

Publications

Books

Educators, Activists, and the Oral Tradition: New Directions in Oral History Research (Myers Education Press) (with Derrick Alridge et al.)

The Memoirs of Hon Henry L. Marsh, III: Civil Rights Champion, Public Servant, Lawyer (GrantHouse Publishers) (Jonathan Stubbs) (February 2018).

Journal Articles

Cynthia Plair Roddey: Carolina Activist and Teacher in the Movement, TEACHING TO TRANSGRESS: THE ACTIVISM OF BLACK EDUCATORS FROM RECONSTRUCTION THROUGH THE CIVIL RIGHTS MOVEMENT (with Derrick P. Alridge and Alexis Johnson)

Movement Lawyers: Henry Marsh's Long Struggle for Educational Justice, RICHMOND L. REV.

The Right to Education in the Midst of a Pandemic, NORTHWESTERN UNIVERSITY LAW REVIEW OF NOTE

Black Teachers in the Civil Rights Movement and Black Freedom Struggle: A Historiographical Review, AMERICAN EDUCATIONAL RESEARCH JOURNAL (2020) ((with Derrick Alridge Alexander Hyres, and Chenyu Wang)).

Pardon Me Please: Cyntoia Brown and the Justice System's Contempt for the Rights of Black People, 35 HARVARD BLACKLETTER LAW JOURNAL 85 (2019).

Book Reviews

Melissa Milewski, Litigating across the Color Line: Civil Cases between Black ad White Southerners from the End of Slavery to Civil Rights, 104 The Journal of African American History 691 (2019).

Bobby L. Lovett, A Touch of Greatness: A History of Tennessee State University, The Journal of African American History (2015).