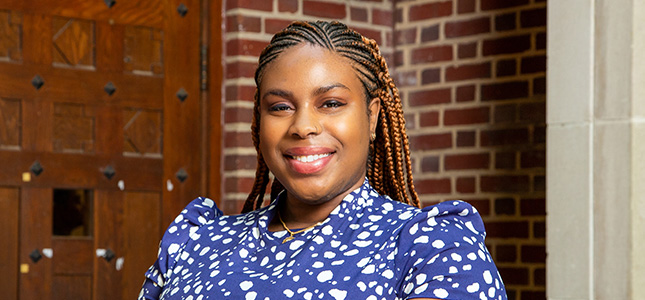 Marissa Jackson Sow
Assistant Professor of Law
Curriculum Vitae
Profile

Professor Jackson Sow teaches and writes in the areas of contracts, constitutional law, international law, human rights, law and philosophy, and rhetoric. Her most recent works,

Protect and Serve

, and

Rebuilding the Master's House

, were published in the

California Law Review

, and

Michigan Law Review Online,

respectively

,

and additional work is forthcoming in the

University of California Irvine Law Review

. Professor Jackson Sow earned her J.D. from Columbia Law School, her Master of Laws from the London School of Economics and Political Science, and her B.A. from Northwestern University. Immediately prior to returning to academia, Professor Jackson Sow served as a Leadership in Government Fellow for the Open Society Foundations and a 2020 Fellow for the Fellowship Programme for People of African Descent hosted by the UN Office of the High Commissioner for Human Rights. She was previously a law clerk to the late Honorable Sterling Johnson, Jr. in the Eastern District of New York, and the late Honorable Damon J. Keith on the Sixth Circuit Court of Appeals.

Publications

Journal Articles

Fighting for Whiteness in Ukraine, Creighton Law Review (2023).

(Re)Building the Master's House: Dismantling America's Colonial Politics of Extraction and Exclusion, 121 Michigan Law Review Online (2023).

Crossing the Bridge: African Americans and the Necessity of a 21st Century Human Rights Movement, 56 Human Rights and Globalization Law Review 56 (2014).

Closing the Gap: Toward a Rights-Based Approach to Refugee Law, IV Northwestern Interdisciplinary Law Review 147 (2011).

Neo-Colonialism, Same Old Racism: A Critical Analysis of the United States' Shift toward Colorblindness as a Tool for the Protection of the American Colonial Empire and White Supremacy, XI The Berkeley Journal of African-American Law & Policy 156 (2009).

Book Chapters

Law and Order: Racial Contracting, Ukraine, and International Law, in Race, Racism, and International Law (Stanford University Press) (2024).