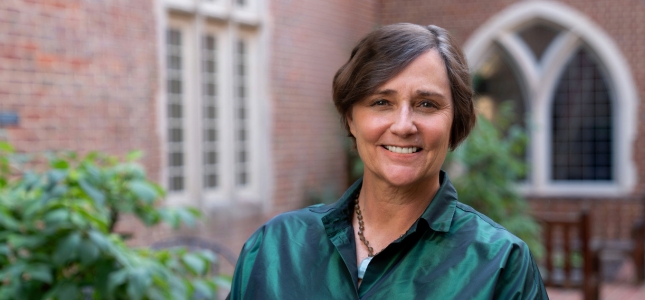 Mary Kelly Tate
Director, Institute for Actual Innocence
Clinical Professor of Law
Courses Taught
Wrongful Convictions Seminar
Wrongful Convictions Clinic
Criminal Process
Profile
Professor Mary Kelly Tate serves as Director of the School of Law's Institute for Actual Innocence, which works to identify and exonerate wrongfully convicted individuals in Virginia by pursuing writs of actual innocence and related post-conviction relief, and also teaches a wrongful convictions seminar. Her scholarship focuses on post-conviction issues, and she has been invited to speak at national symposiums on innocence commissions and the problem of wrongful convictions. Students working with Professor Tate through the Institute for Actual Innocence receive a rich academic and clinical education experience that involves case review and reinvestigation, as well as partnership with legal, scientific, and policy leaders in the field. Professor Tate and her students also work in the area of public policy reform. Professor Tate has served as an Assistant Public Defender in the Richmond Public Defender's Office and represented individuals in post-conviction capital and criminal litigation as an attorney in private practice. 
Presentations
"Emerging Coalitions: Challenging the Structures of Inequality," University of Tennessee College of Law (Oct. 2015)
"University of Richmond School of Law and its Clinical Technology Initiative," AALS 38th Annual Conference on Clinical Legal Education (May 2015) (with Julie McConnell).
Participated in a workshop at Yale regarding new federal clemency petition guidelines (crack/powder sentencing disparities).
Professional Experience
Director of the Institute for Actual Innocence, Associate Clinical Professor of Law (2005-present)
University of Richmond School of Law, Richmond, Va.
Public Defender (1999-2001)
City of Richmond Public Defenders Office, Richmond, Va.
Attorney (1995-99)
Solo Practice, Richmond, Va.
Associate; Law & Employment/ERISA Team (1993-95)
Hunton & Williams, Richmond, Va.
Law Clerk (1991-92)
Hon. Robert R. Merhige, Jr., Eastern District of Virginia, Richmond, Va.
Publications
Books
Criminal Law and Procedure: An Overview (Cengage Learning 4th ed. 2014) (with Ronald J. Bacigal).
In the News
For German diplomat's son jailed in 1985 double murder, a powerful new advocate (Washington Post)
Fri., Oct. 27, 2017
Law professor calls on governor to pardon Soering (WVTF)
Fri., Oct. 27, 2017
The cost of incarceration (WRIC)
Thu., Feb. 2, 2017
UR Law School students help win presidential commutation of life sentence (Richmond Times-Dispatch)
Sun., Jan. 29, 2017
Guilty, Then Proven Innocent (The Atlantic)
Mon., Feb. 9, 2015
Tate: In defense of Wendy Davis' political biography (Richmond Times-Dispatch)
Tue., Jan. 28, 2014
Faith on Values: Years After Infant Son Dies, Grief Remains (Richmond Times-Dispatch)
Sat., Feb. 23, 2013
Reforms of 'actual innocence' process advancing in Assembly (Virginia Lawyers Weekly)
Wed., Jan. 23, 2013
Cuccinelli: Va. law should help clear names of wrongly convicted (Richmond Times-Dispatch)
Fri., May. 4, 2012
Huguely case: Different charges, different legal strategies (The Daily Progress)
Sat., Feb. 11, 2012