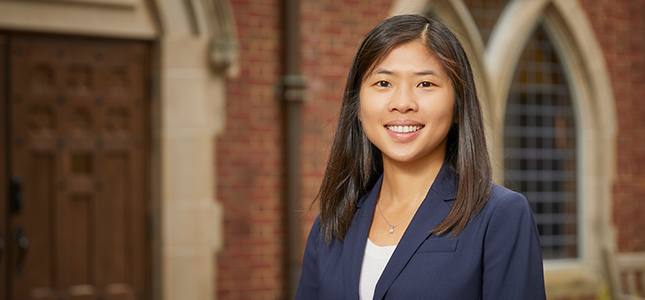 Da Lin
Assistant Professor of Law
Courses Taught
Business Associations
Corporate Governance
Profile
Da Lin is an Assistant Professor of Law at the University of Richmond, where she teaches and writes about corporate governance, securities regulation, and financial regulation.  Before coming to Richmond, Professor Lin taught as a Climenko Fellow and Lecturer on Law at Harvard Law School, where she was a recipient of the HLS Student Government Teaching and Advising Award and the Women's Law Association's "Shatter the Ceiling" Award for Excellence in Mentorship.
Professor Lin received her A.B. and S.M. in applied mathematics from Harvard University and her J.D. from Harvard Law School.  After graduation, she clerked for Judge R. Lanier Anderson III on the Eleventh Circuit Court of Appeals and practiced at King & Spalding LLP.  Before law school, she worked as a research analyst with the Federal Reserve Bank of New York. 
Presentations
Commentator, Eric Talley et al., "Complexity, Bounded Managerial Rationality, and the Shareholder Primacy Doctrine," Rethinking the Shareholder Franchise, University of Wisconsin Law School (Sept. 2019).
Professional Experience
Assistant Professor of Law (2019-Present)
University of Richmond School of Law, Richmond, VA
Climenko Fellow and Lecturer on Law (2015-2019)
Harvard Law School, Cambridge, MA
Associate, Healthcare Group (2014-2015)
King & Spalding LLP, Atlanta, GA
Law Clerk (2013-2014)
United States Court of Appeals for the Eleventh Circuit, Chambers of Judge R. Lanier Anderson III, Macon, GA
Research Associate, Research Group, Macroeconomics and Monetary Studies Function (2009-2010)
Federal Reserve Bank of New York, New York, NY
Publications
Articles
Beyond Beholden, 44 J. Corp. L. 515 (July 2019).
Bank Recapitalizations: A Comparative Perspective, 50 Harv. J. on Legis. 513 (June 2013).
Blogs
Janus and Public Pension Funds, Harv. L. Rev. Blog L. (Sept. 2018).
Missing Data and Anti-Discrimination Laws, Harv. L. Rev. Blog L. (April 2018).
Additional Publications
Ames' Auto Insurance Regulations — Racial Disparities in Insurance Premiums, Harvard Law School Case CSP-033 (2017).